---
LET'S CO-CREATE SOMETHING GREAT!
Passion, long-lasting experience, vast knowledge and quality of operations
– these are the keywords which determine who we are. The name of our company is closely related to its mission, which states that we want to trace on the market
high quality products under our brands, as well as products bearing the labels of our customers.

PROFESSIONALS
Our strongest point is a harmonious, professional team of specialists, both in development, marketing and trade. A team which perfectly combines rich experiences of international companies. The team is composed of people with vast knowledge of the Asian market. Each of their activities is marked by commitment and passion, which guarantees a perfect cooperation.


PRODUCTS
Our portfolio includes wide varieties of chillisauces (o.a. sweet, tropical, hot), chilli pastes (o.a. sambal oelek, manis, badjak), sriracha, piri-piri, spice mixes, woksauces (a.o. sweet & sour, teriyaki, curry), soy sauces, ketjap and many more.
These packed in glass or PET varying from 50g to 10kg.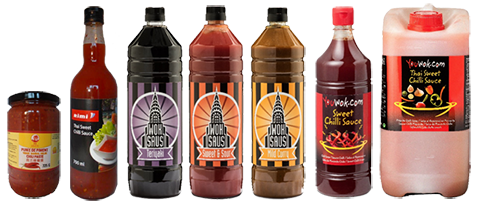 OFFER
Comprehensive management of Asian/Oriental under PRIVATE LABELS. Working with specialists, we offer a professional management of the product categories. This includes all phases of introducing a product into the market:
- we attentively listen to our customers
- we research the market and market trends
- we create formulas and take care to assure that the range is
- always appropriately adjusted to consumers' preferences
- we constantly monitor the entire category