---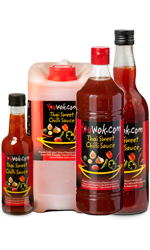 A sweet chilli sauce flavored with garlic gives a sweet and spicy taste. Often served as a dippingsauce for all kind of crispy fried dishes or used as a topping. After initial sales in Asian shops this product nowadays has gained distribution in supermarkets in north and western Europe. Adults seem to use this chilli sauce the same way as tomato-ketchup.
Available in 250, 700 and 1000 mL bottles and in 4 L cans.
---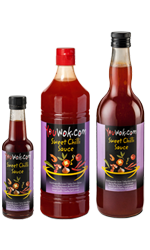 A sweet chilli sauce, less spicy than the Thai Sweet Chilli Sauce, excellent as dipping sauce for spring rolls or other fried appetizers. Due to the lack of garlic, well appreciated by the European consumer.
Available in 250 and 700ml bottles and 1000ml PET packaging.
---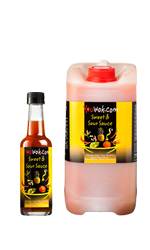 A sweet and sour sauce with elements of pineapple and ginger make this sauce into a perfect cooking sauce for many Chinese dishes like sweet&sour pork or chicken. Also nice in a vegetarian version in combination with vegetables (Chop Suey).
Available in 250ml bottle and 4ltr foodservice packaging
---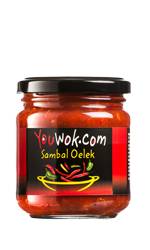 Sambal Oelek
Fresh red chillies are crushed and cooked to a paste, usually served as an accompaniment to rice and curried dishes, either as a condiment or as a side dish. Different grindings available: normal with kernels or extra fine.
Available in 50, 100, 200 and 725 g jars, 10 kg buckets and larger industrial containers.
---
An intensely dark brown, syrupy-thick Indonesian sauce similar to, but with a sweeter, more complex flavor, than soy sauce. It is used in marinades, as a flavoring in various Indonesian dishes and as a condiment.
Available in 125, 250, 500 and 750 mL bottles as well as 5 and 10 L plastic containers.

---
One of the vegetables very often used in Asian cooking. These bean sprouts can be eaten cold as a salad or cooked as vegetable in combination with meat and sauce.
---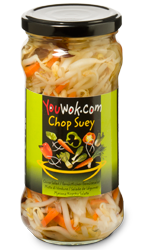 Chop Suey
Also known as China Salad. A mix of different vegetables like bean sprouts, white cabbage, corn, bambooshoots and mushrooms. To serve cold as a salad or warm as stirfry vegetables. Other salads like Thai or Japanese salad, with different mixtures of vegetables, are also available.
---
Krupuk Crackers
Ready-to-eat prawn crackers on basis of tapiocaflour and prawns.
Available in 75 g bags.
---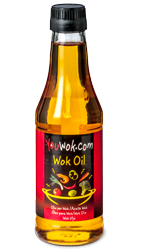 Wok Oil
A flavoured rapeseed oil suitable to wok on high temperature..
Available in 250 ml bottles.
---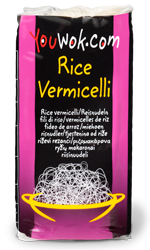 Rice Vermicelli - Mihoen
Very long, thin noodles made from rice flour and water. They are used in stir-fries, soups, spring rolls or are deep-fat fried until crispy and then crumbled over salads. Dried noodles should be soaked in hot water and then boiled for a few minutes before using.
---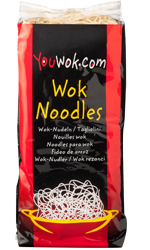 Wok Noodles
Noodles made from wheatflour. Cook your noodles for 4 minutes in boiling water. Drain and rinse under tap water. Stir fry with your favorite meat and/or vegetables.
---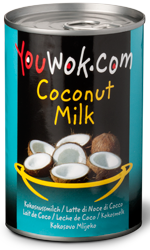 Coconut Milk
A coconut milk with a rich, creamy and mildly sweet taste packed in an easy opening can.
---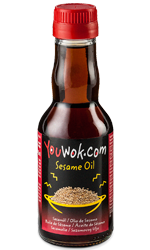 Sesame Oil
An edible oil derived from toasted sesame seeds,that gives the oil its dark colour and flavour. The product is often used as a flavor enhancer in Chinese, Japanese, Korean and to a lesser extent in the South East Asian cuisine
---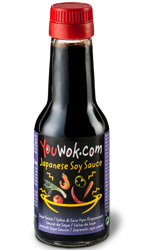 Japanese Soy Sauce
This liquid seasoning has a deep brown color and pleasant aromatic aroma. Used to enrich a variety of Japanese dishes. Use it as a cooking sauce or condiment to bring out the flavour to your dish.
---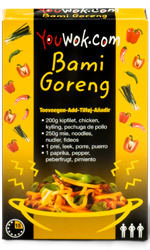 Bami Goreng
Prepare your Chinese noodle dish with this special blend of spices. Stirfry meat and vegetables before adding sauce. Then mix with cooked egg or vermicelli noodles.
---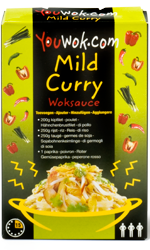 Mild Curry
A mild dish based based on Thai green curry. Easy to prepare with chicken and/or vegetables.
---
Teriyaki
Originating from the Japanese kitchen this sauce adds flavour to meat and vegetables when used as a strfry sauce or marinade.
---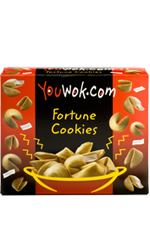 Fortune Cookies
6 Cookies, individually wrapped. Each containing a happy message. Fortune cookies are an ideal way to finish your Chinese meal with a smile.